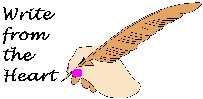 I often hear writers say they write because they can't NOT write. For me, it was a quiet pipe dream in Junior High School; but nothing I seriously considered pursuing. (After all, artists starve don't they? Otherwise, where did that saying originate?)

At age 14, I committed my life to full-time missionary work. I figured I'd be off in Africa somewhere helping little babies. I never paused to think God might have a VERY different type of mission in mind.

I continued writing because it was fun, it allowed me uncensored self-expression in my journals (which a school teacher encouraged), and I enjoyed poetry - both reading it and writing it (kind of like doing a jigsaw puzzle where you invent the picture as you work).

As a Kindergarten Teacher, I often wrote stories at the spur of the moment. Sometimes I let the children choose an object in the classroom to be in my story. Other times I let each day's Good Neighbor Award winner bring an object from home for me to weave a story around.

It wasn't until after I had throat cancer in 1977, that people began telling me I should publish my poetry, essays, and children's stories.

After joining a local writer's group, I began to actually study the craft of writing.

I learned that my grammar ran seriously amiss (I think it's improving-with enough rewrites).
I learned that most of my early poetry would be called "cathartic poetry," similar in theme to many of King David's Psalms.
I learned that I had LOTS to learn.
So, how did I get started?
I bought LOTS of books about writing. (To study a book, I can't borrow it. I must buy it to read, reread, and mark it up mercilessly.)
I attended Writer's Conferences. I took notes. I taped lectures and transcribed the tapes. I listened to other writers. I asked questions, no one was safe around my curiosity.
I entered writing contests, many writing contests, and whooped with amazement everytime something I'd written won any kind of award -- even honorable mention.
Then, two editors joined me at my lunch table during a writer's conference in 1980 and said, "We're looking for Christian writers. Would you be interested in writing for our two publications?"
I don't remember whether I even ate my lunch.
* One editor wanted a book reviewer - I'd be paid $40 per book review and even get to keep the book for free. She wanted someone to read family-oriented non-fiction books and to review them for a pastor's magazine. It sounded like fun so I said "YES!"
* The other editor had heard me say I'd attended a recent church librarian's training conference. He wanted people to write articles for their magazine aimed at church librarians. Again, I said a resounding "YES!"
* Both editors befriended and coached me as a beginning writer, more rare these days. NOTE: If an editor offers you some writing advice, TAKE IT. It will at least help you write better for that magazine, and may also improve your chances of being accepted at other publications too.
* I was able to write several book reviews for Susan (and fill a bookshelf with free books).
* I also wrote nearly 40 magazine articles for Floyd. (It's energizing to look at your clips!)

Okay, so now I was hooked. But writing was a side-business for me, not a full-time calling yet.

What changed? Someone wrote me a letter. A stranger took the time to write me and tell me how something that I'd written touched her life.
From that day to this, I look more carefully at what and why I am writing (see my mission/vision statement).
Now I write very little that does not have a Christian focus or a Christian message. Not that I wouldn't, but I haven't very often in the last few years.
I cut pictures of people from a magazine, people who seemed to represent the types of readers for which I write, and put them on my bulletin board so I could focus on writing to those people.
500+ articles later, now I pray before taking on new assignments. No one can "do it all." We must prioritize and set boundaries so we can appropriately attend to all the aspects of our lives.
I write to touch lives for the better - to make a positive difference, and to be used by God who held me in His hand through life's storms.
I write because I am happiest and most fulfilled while writing. Sometimes writers only write to see the finished, published product. How sad, not to enjoy the process as much as "having written." Sure, it's great to see your byline; just be careful not to exist only for the future. Learn to enjoy the processes of life on their own terms.
Finally, I also write to learn. I learn about myself, the Bible, life, and my relationships - including my relationship to God. If this last reason were the only benefit, it would be reason enough.


~~~ Jeanetta