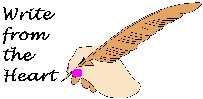 Although many writers complain about having to work another job to support their writing, I recognize it as a mixed blessing.
When writing full time we could probably complete more writing projects. If we are well-motivated and self-disciplined enough to use our time wisely, our completed writing should increase in proportion to the amount of time gained by not working another job.
However, if you seclude yourself away from the world hermit-style, where do you find ideas and illustrations?

While some of my ideas occur while reading, doing dishes, or watching a movie; other ideas are gleaned from listening to other people's thoughts, problems, and desires.
Those of us who are NOT hermit-minded, would likely feel less stimulated to think creatively if our lives were devoid of conversations with other people. We would need to creatively seek out opportunities for thought-stimulating interactions; which, of course, would cost us some of that "saved" time from not working a "real" job.
More importantly, in my case, where would I practice my Christian witness if I gave up teaching college classes?

When teaching in Seattle's Community College system, almost 75% of my students were from other countries. This presented opportunities to influence young people from around the world for Christ - or at least demonstrate to them that this Christian cares about them as I worked hard to help them understand course concepts, understood "life happens," helped them catch up assignments and missed lectures, and graded them fairly with full explanations and open gradebook information.
Now, as I teach at Southwest Minnesota State University, I continue to consistently receive excellent student feedback ("she works us hard but is a great teacher and cares about us") - which tells me that my students notice my actions as a Christian - even after they are no longer in one of my classes.

In the Bible, I read where the Apostle Paul sometimes sewed tents to pay his own way in ministry. If Paul thought there were times when it was appropriate, we can too. However, we can hope those times do not last many years. Imagine the Bible without Paul's letters!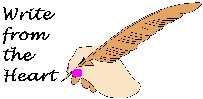 In my writing:
I have moved from 20 years of working full-time and writing only on Saturday mornings, to teaching part-time (these last few years) while writing part-time.
2. Having had these experiences, I see several things to be true for me.

When I teach only part-time, my "teaching job" expanded somewhat to fill in part of that writing time (because now I have the time to add some finer points on my teaching).
When I work from home (teaching online classes), my house "screams at me to be cleaned perfectly" more than when I first arrive home from teaching in a classroom.
My flow of ideas has increased dramatically, with notes for future projects filling many pages - awaiting my writing time and attention.
As people discover than I teach part-time, they wrongly assume I have plenty of free time to help them with their projects; so I must set boundaries to guard my writing time.
I now believe that as fidelity to our writing progresses from 5% to 100% of our available work time, our writing projects will take over the available time from other jobs. The question, of course, is: When will it pay the bills?
3. Therefore, until our writing can pay the bills, I expect there to come a time when - to fulfill our calling to write: we must be willing to "do without" many things and work harder at a second job to meet basic financial needs if it becomes necessary.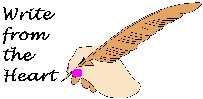 What does this say to you as a fellow writer or speaker?
First, identify and balance your time according to your life priorities.
Second, do as much as you can - when necessary and appropriate - to provide for yourself.
Third, be willing to admit it if your writing/speaking is not paying for itself yet, and seek alternatives - in good faith!

Look into scholarships, grants, and writer-in-residence programs. You must be willing to show these people what you intend to work on, and regular progress.
Just as the early church and other patrons of the arts often supported artists and writers, many organizations still consider the possibility - providing you are honest with them (and don't spoil opportunities for the rest of us).

Search your heart. Are you a self-disciplined and well-motivated writer who is a good candidate for full-time writing? Set times to write. Focus on writing during those times.
Either way, fit writing into your lifestyle and WRITE!
~~~Jeanetta